Marinette Chiropractor | Dr. David Stalheim
Wow, I can remember that moment as if it was yesterday. My first chiropractic adjustment, that is. When I first entered a chiropractic office as a teenager, I could barely walk after suffering a football injury. My low back and leg pain was terrible. A friend of mine had recommended that I try chiropractic, and I figured "I have nothing to lose. I've tried everything else and nothing has helped yet." I am grateful for my friend's words of advice to this day. My chiropractor did an exam, took some x-rays, told me what was wrong, gave his recommendations, and then I received my first adjustment. I remember standing up afterwards and, not feeling like I was cured, but finally……,something had helped at last. I knew I was in the right place. Now, every day I get to witness "miracles" just like I experienced.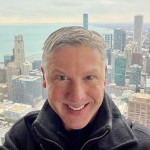 During my first year of college, I did some research and found that chiropractic care meant so much more to the health of the body than just taking care of aches and pains. I had a hunch that was something I would enjoy doing and shifted my education goals toward a Doctor of Chiropractic degree. After completing my undergraduate education at UW-Eau Claire, I graduated Magna Cum Laude from Palmer College of Chiropractic in 1996. My hunch was right. I have been in full-time practice since 1996 and love going to the office and helping people every day. My goal with every new and existing patient is to help that person achieve their health goals, whatever those goals may be at the time. Most people initially come to me with some sort of pain or physical complaint. It is my objective to find the cause of the pain and use chiropractic care and home therapy recommendations to correct the underlying problem and prevent its return. I also hope to educate those that I am fortunate enough to care for as to the benefits of chiropractic care in caring for the wellness of the body as a whole and the importance of family care. Our office is both warm and friendly and you should expect excellent service at a reasonable fee when you visit us.
I have been fortunate to have two of the healthiest (now adult) children I know, Andrew and Sydney. Andrew and Sydney happen to be the youngest patients I have cared for, both of them having their spines "checked" and adjusted just moments after having been born. Free time away from the office is enjoyed traveling, hunting, golfing, skiing, and spending time with friends and family. Thanks for taking the time to visit our site. I look forward to meeting you in person and exploring how chiropractic care may be able to help you achieve your health goals. Please give our office a call or email me using the link below and you'll be taking the first step towards better health. Don't wait! Contact Stalheim Chiropractic today to get started with care.